Newsletters
The Blue Mountain NEWS is produced quarterly with additional news sent out directly to members and supporters through e-blasts. The newsletter is free and automatically is sent to members when they join. We welcome your comments and suggestions for content.
To receive our newsletter directly, JOIN our society.
For the most recent HRM property acquisitions, please visit our Maps page.
Read our most recent newsletter here. Find past issues below.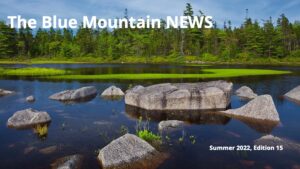 BlueMtn NEWS Edn. 15 Summer 2022